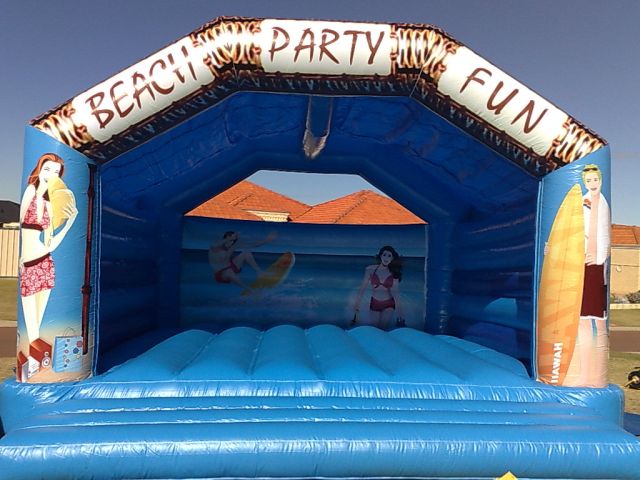 $250 package deal (3 hour metro hire) self-supervised
PACKAGE DEAL ITEMS ARE TO BE HIRED TOGETHER AT SAME LOCATION ON SAME DATE
BEACH BOUNCY CASTLE HIRE
ADULT BOUNCY CASTLE HIRE
Beach party theme hire
This Bouncy Castle is great for all ages, including adults. The Beach Bouncy Castle is extra fun, due to being able to jump and bounce off of the walls too!!! The Beach Bouncy Castle has an open front allowing easy access for people to move freely and off the castle. It also allows viewers to check out whats going on inside. Team the Beach Bouncy Castle with our Mechanical Surfboard and you have the ideal beach theme party. The Beach Bouncy Castle is part of our discounted package deals where you hire the second Bouncy Castle for only $250. Sorry, the Beach Bouncy Castle is unable to be hired separately.
All our amusement ride hire prices include GST, free set up/pack down and free metro delivery within 50 klms of Medina.
BEACH BOUNCY CASTLE $250 - Package price (3 hour hire)
1 x Beach Bouncy Castle. Operator available from $39 per hour
SPECIFICATIONS for Beach Bouncy Castle
AGES: All ages
CAPACITY: 10 people at a time approx 140 per hour
OPERATION: Can be self-supervised or operators are available for $39 per hr
If self- supervising please click link to download: Beach Castle Operator Instructions
SPACE: 6mLx6mWx3.5mH flat cleared surface
ACCESS: 1m flat access
POWER: 1×10 amp power socket, within 25 m of unit, on its own circuit.
NO OTHER DISCOUNTS APPLY IF PURCHASING PACKAGE DEALS