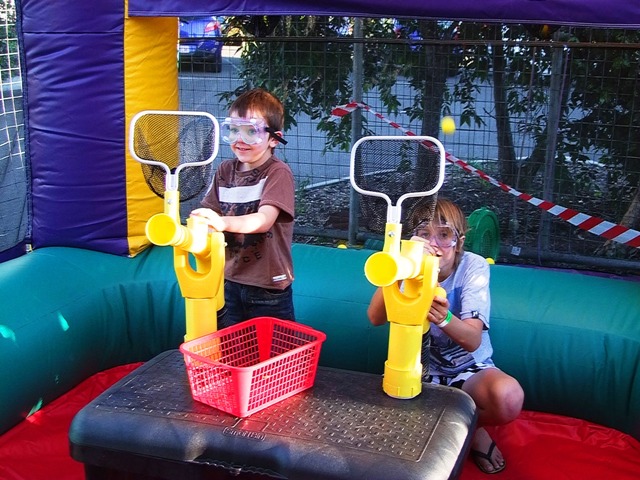 cANNONBALL BLASTER HIRE
Ready, Aim, Fire!! The Cannonball Blaster is an exciting, fast paced amusement game. There are 4 blasters so you can have teams of 2 or 4. You can rotate teams so everyone gets a turn. Participants shoot foam balls through the ever flowing vacuum blaster into the air across to their opponents. There are 100's of brightly coloured foam balls. The aim of the game is to get as many balls in the opposing teams target net and to be crowned team blaster!!!
All our amusement rides include GST, free set up/pack down and free metro delivery (Joondalup to Mandurah)
CANNONBALL BLASTER HIRE
$495 (3 hour hire) $125 each additional hour
1 x Cannonball Blaster (self supervised)
Large bag of foam balls
DOUBLE BOUNCE PACKAGE DEAL
$750 (3 hour hire) $250 each additional hour.
1 x Cannonball Blaster (self supervised)
Large bag of foam balls
1 x Bouncy Castle (self supervised) Choose any of our eligible Bouncy Castle range up to $500 value
Above hire prices are self supervised. Operators are available for $39 per hour.
SPECIFICATIONS for Cannonball Blaster
AGES: All ages
CAPACITY: 4 people at a time approx 50 per hour
OPERATION: Can be self-supervised or operators are available for $39 per hr
If self- supervising please click link to download: Cannonball Operator Instructions
SPACE: 7mLx4mWx3mH flat cleared surface
ACCESS: 1m flat access
POWER: 1×10 amp power socket, within 25 m of unit, on its own circuit.
NO OTHER DISCOUNTS APPLY IF PURCHASING PACKAGE DEALS