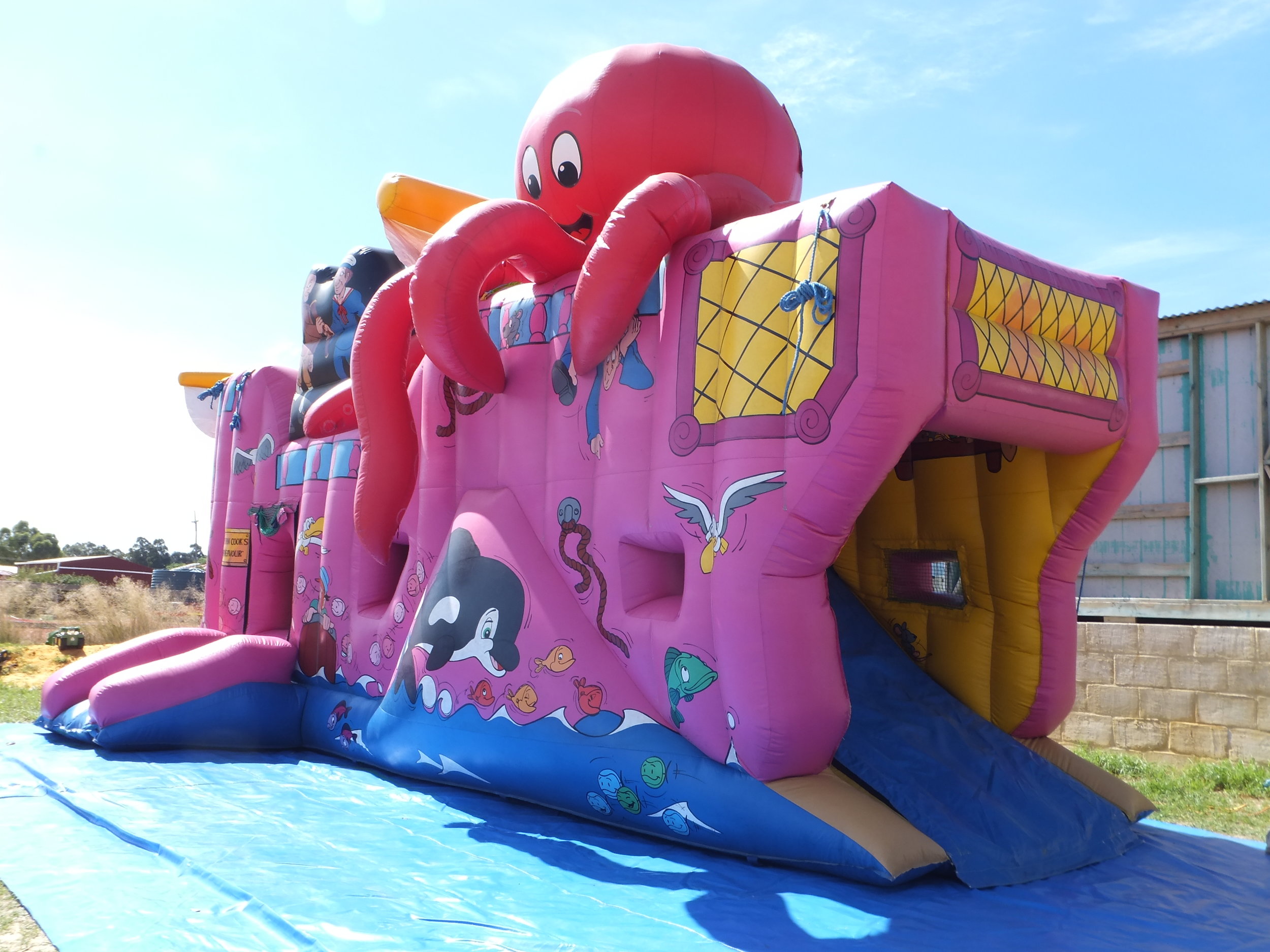 With it's giant octopus our Captain Cook Bouncy Castle is visually appealing
Want a Bouncy Castle hire that is a stand out? Our Captain Cook Bouncy Castle is big, bright and perfect for larger events
CAPTAIN COOK BOUNCY CASTLE HIRE
LARGE BOUNCY CASTLE HIRE
Create the party that dreams are made of with our fun and funky pirate ship castle!! Enter through the door for some bouncing mayhem and slide out the other end… Aaaar it's a pirates life for me!! Suitable for everyone, this castle is so visually appealing that you'll have a cue of people waiting for a go all day or night and with the giant inflatable octopus on the top people will see your event from a distance!! So, if it's a big, bright and fun bouncy castle you're looking for then look no further!
All our amusement rides include GST, free set up/pack down and free metro delivery within 50 klms of Medina
CAPTAIN COOK BOUNCY CASTLE HIRE
$545 (3 hour hire) $125 each additional hour
1 x Captain Cook Bouncy Castle
* Captain Cook is excluded from the Double Bounce and BucknBounce package deals. For more information see our Terms & Conditions on our Packages page.
SPECIFICATIONS for Captain Cook Castle
AGES: All ages
CAPACITY: 10 people at a time approx 60 per hour
OPERATION: Can be self-supervised or operators are available for $39 per hr
SPACE: 10.5mLx6mWx4.5mH flat cleared surface
ACCESS: 1m flat access
POWER: 1×10 amp power socket, within 25 m of unit, on its own circuit.
NO OTHER DISCOUNTS APPLY IF PURCHASING PACKAGE DEALS