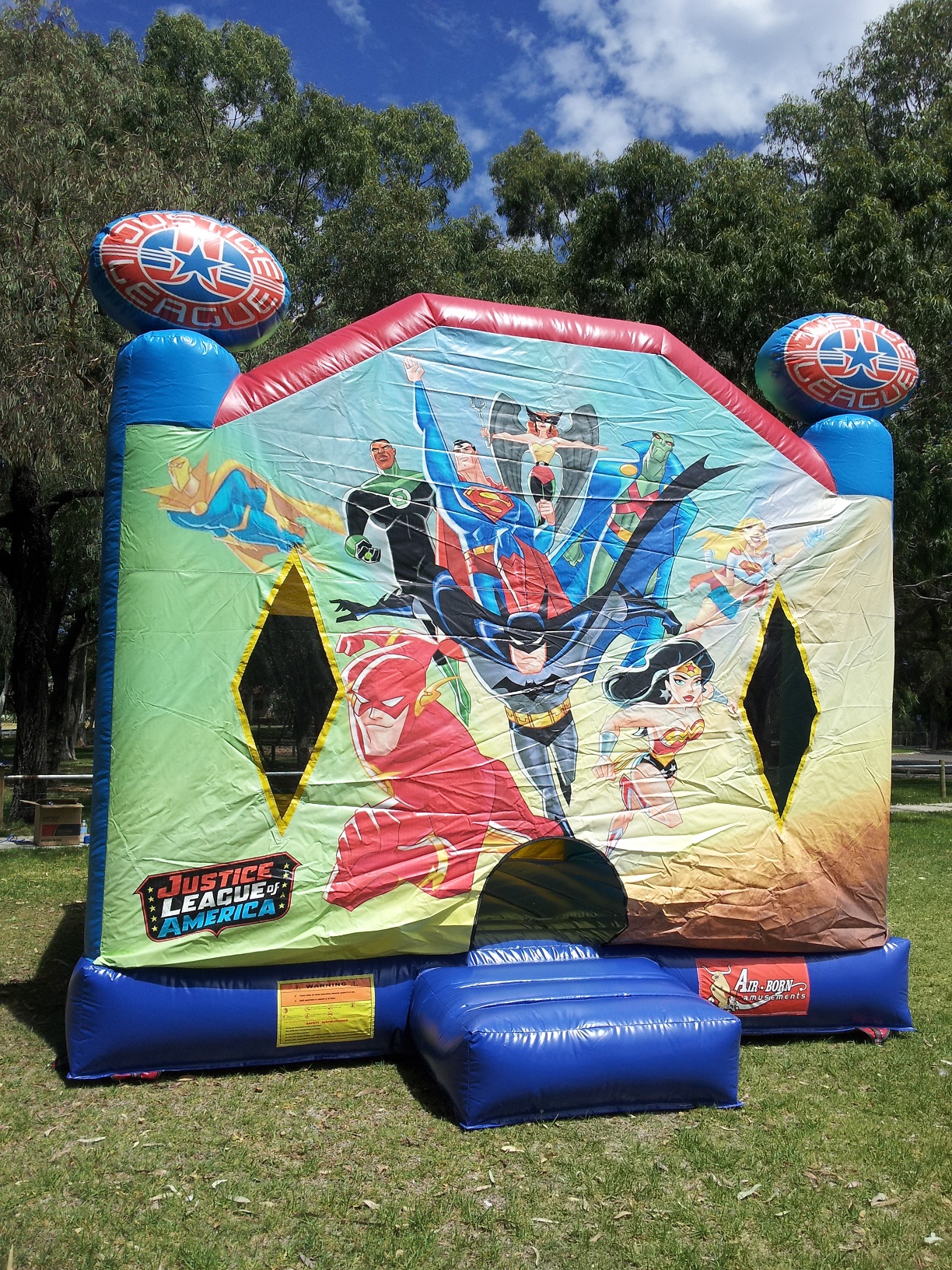 Super Heroes Bouncy Castle is free to hire with our Triple Bounce package deal
OR
$200 AS PART OF OUR DOUBLE BOUNCE PACKAGE DEAL
$200 package deal (3 hour metro hire) self-supervised
PACKAGE DEAL ITEMS ARE TO BE HIRED TOGETHER AT SAME LOCATION ON SAME DATE
SUPERHEROES BOUNCY CASTLE hire
Calling all Superheroes!!! Join Batman, Superman, Supergirl, Green Lantern, Wonder Woman, The Flash, Martian Manhatter and Hawk girl. Have an amazing time at your next event and keep your guests entertained for hours with this superhero themed bouncy castle. Great for all ages and all events! Super Heroes Bouncy Castle hire is part of our discounted package deals where you hire the second Bouncy Castle for only $200. Sorry, Superheroes Bouncy Castle can not be hired separately.
All our amusement rides include GST, free set up/pack down and free metro delivery(Joondalup to Mandurah)
DOUBLE BOUNCE OR BUCK N BOUNCE PACKAGE DEAL
PRICE: $695 (3 hour hire) $150 for each additional hour
1 x Mechanical Bucking Bull or Mechanical Surfboard with complementary operator
1 x Super Heroes Bouncy Castle. Operator available from $39 per hour
SPECIFICATIONS
AGES: All ages
CAPACITY: 10 people at a time approx 140 per hour
OPERATION: Can be self-supervised or operators are available for $39 per hr
If self- supervising please click link to download:Superheroes Operator Instructions
SPACE: 5mLx5mWx3.5mH flat cleared surface
ACCESS: 1m flat access
POWER: 1×10 amp power socket, within 25 m of unit, on its own circuit.
NO OTHER DISCOUNTS APPLY IF PURCHASING PACKAGE DEALS